Launch will be at 4:05am Pacific tomorrow. The primary purpose of the test is to test the heat shield upon re-entry.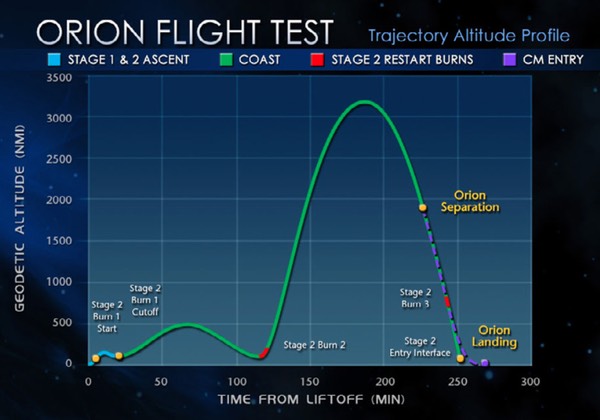 This is a test flight (or stunt, depending on whom you ask). The article does a good job detailing how EFT-1 is different from EM-1:
The EFT-1 mission is designed to test out many key technologies needed for Orion's future missions. NASA officials say that the flight will test 10 of the top 16 risks that could lead to the loss of a crew. This mission, though, will be different from those future crewed Orion missions in a number of ways.

"It's somewhat unique for this mission. NASA's asking for a service and we're providing the data back," said Lockheed's Austin.
First involves Orion itself. "We are flying a flight primary structure, so you could fly people with this primary structure. You could fly people with this heat shield," Geyer said. However, he said that engineers have found ways to reduce the structure's mass that will be implemented on future missions. The vehicle's launch abort system also won't have an abort motor on this flight, since there is no crew on board.

Also, with no crew on board, much of the interior of Orion is not outfitted for EFT-1. For example, this Orion has no seats for a crew, nor displays and other controls that astronauts on board would use, Geyer said.

Even Orion's exterior will look different. Illustrations and animations of Orion show it with a white exterior, courtesy of thermal paint. But the Orion flying on EFT-1 will instead look black. Henning explained that, given the short duration of the flight, that paint isn't needed. "It's just the raw black tile," he said.

This Orion will also lack a full-fledged service module; in fact, the command module will remain attached to the upper stage for all but the last hour of the flight. The European Space Agency is supplying the service module for the next Orion mission, Exploration Mission 1 (EM-1), using technology developed for the Automated Transfer Vehicle spacecraft that services the International Space Station. ESA awarded a contract to Airbus Defence and Space on November 17 to serve as prime contractor for the service module.

Also different, of course, is Orion's launch vehicle. With the Space Launch System (SLS) heavy-lift rocket that will launch future Orion missions still at least three years away from its first flight, the Delta IV Heavy was the best option available to do an interim flight test before SLS launches Orion on EM-1.

Less visible than the launch vehicle and the appearance of Orion, though, is how the EFT-1 mission is being carried out. While widely seen as a NASA mission, it is more accurate to say that EFT-1 is a mission for NASA being conducted—and led—by prime contractor Lockheed Martin.

"We took a different approach with EFT-1. We're basically buying services from Lockheed Martin," said Hill. "They are responsible for the mission. It is truly a commercial endeavor."

"It's somewhat unique for this mission. NASA's asking for a service and we're providing the data back," Bryan Austin, the Lockheed Martin EFT-1 mission manager, at last month's KSC briefing.

That approach—Lockheed Martin running the mission, and providing the data to NASA—manifests itself in a number of ways. For example, because this launch is being conducted by Lockheed at not NASA, United Launch Alliance had to obtain a commercial launch license for the Delta IV Heavy, a rocket previously used for national security missions. Lockheed also had to get a commercial reentry license from the FAA for Orion.
The article also focuses on Orion's hazy future after EFT-1, but I'll choose to focus on the positive today. However, it's an excellent article, so read the whole thing.