Eighteen-Year-Old Launches 'The Mars Generation' to Raise Excitement for Human Space Exploration.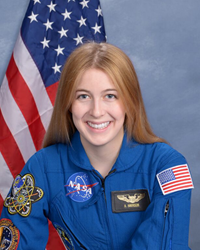 "I am committed to helping ensure that NASA makes it to Mars in the 2030s, whether or not I am part of that first mission," Harrison said. "Making it to Mars is essential to our economic well-being. Our ability to dream big and work towards the impossible pushes us beyond what we think we are capable of as we evolve new technologies and innovations that have real life applications. This is what human space exploration does and why it is so important to the future of humankind. With a rate of return of approximately $8 for every $1 the U.S. spends on space exploration, it makes sense to work toward sending humans to explore the next frontier, Mars."
Harrison is a 2015 graduate of South High School, a Minneapolis Public School, and completed a dual-credit program through the University of Minnesota during high school.
Talk about making your dream a reality! Go Astronaut Abby!
Here's The Mars Generation Web site, and here's Astronaut Abby's web site.
You go girl!