3D Printing Of The First Space-Bound Airframe Now Underway. The non-profit National Space Society will partner with Made in Space to 3D print an entire satellite air frame which will be used to build the NSS Enterprise satellite, hosting hundreds of student payloads by the time it launches.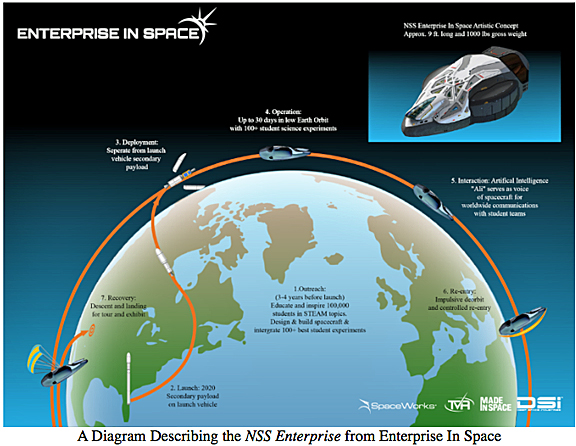 But
After selecting the design concept for the spacecraft through the Enterprise In Space Orbiter Design Contest, EIS is now preparing to bring the winning design, created by video game artist Stanley Von Medvey, to reality. Made In Space and the EIS engineering team, along with the EIS aerospace partners SpaceWorks Enterprise Inc., Deep Space Industries, Terminal Velocity Aerospace and The Global Aerospace Corporation will work toward constructing the eight-foot-long, 1,000-pound satellite. Made In Space co-founder and chief engineer Michael Snyder has also joined the EIS Board of Advisors, where he will lend his expertise to the engineering of the NSS Enterprise and overseeing the educational Enterprise Center for Excellence on Aerospace Additive Manufacturing based on the project.
Enterprise in Space has procured $27.5 million in funding for the project.
This will certainly not be the last time frame of a satellite is 3D printed. But it will be the first, which is way cool.